Nov 8, 2023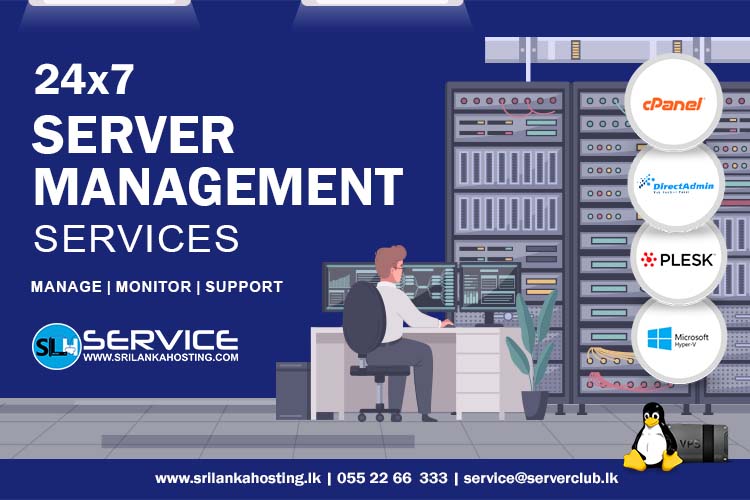 In the digital age, servers are the backbone of any online business. They are responsible for hosting websites, applications, and ensuring that users can access them at any time. This is where 24x7 Server Management Services come into play. SriLanka Hosting, a leading managed service provider, offers a comprehensive suite of server management services that are designed to meet the diverse needs of businesses of all sizes.
Who We Are
Based in Sri Lanka, SriLanka Hosting is at the forefront of server management, boasting a cutting-edge infrastructure and a dedicated technical support center. Our expertise extends to world-class server management services and technical support for a wide array of server environments, including Dedicated Servers, VPS (Virtual Private Servers), Kubernetes/Docker containers, AWS (Amazon Web Services) Cloud, Azure instances, Google Cloud, DigitalOcean droplets, as well as a variety of control panels such as cPanel, Plesk, and DirectAdmin.
What We Do
Initial Server Setup – (Regular 12 hours to 72 hours)
Our initial server setup service is designed to get your server up and running in no time. We handle everything from IP / Hostname / OS Installation / DNS Update to control panel installation and initial server security audit (server hardening). We also configure cloud backup settings and schedule backups to ensure that your data is always safe and secure. Additionally, we provide server migration and deployment support, including server to server migration support and control panel migration support for supported platforms.
Security Audit and Management
At SriLanka Hosting, we understand the importance of server security. That's why we offer comprehensive security audit and management services to detect and mitigate DDoS attacks, optimize server hardening, and ensure secure connectivity and SSH hardening. We also set up and manage software firewalls, configure CDN settings, and manage logs to keep your server secure and running smoothly.
Backup Management
Our backup management services are designed to ensure that your data is always safe and secure. We configure and implement backup settings, check and manage server backups, and restore backups from the server as needed. With our backup management services, you can rest assured that your data is always protected.
Server Monitoring
Our server monitoring services are recommended for real-time critical systems that ensure uninterrupted and secure operations. When you choose our server monitoring plan, you receive server management at no additional cost. We monitor server uptime using a real-time dashboard and alert system, monitor common ports for connectivity, and monitor disk usage, CPU load, and memory issues in real-time. We also conduct disk health checks, remote port scans, and disable unnecessary services to ensure that your server is always running at peak performance.
Why Choose SriLanka Hosting?
There are several reasons why businesses choose SriLanka Hosting for their server management needs:
Expertise
Our team of experts is highly trained and experienced in managing servers across a wide range of environments. We have the knowledge and skills to handle any server management task, from initial setup to ongoing monitoring and maintenance.
Reliability
We are committed to providing reliable and secure hosting solutions to our clients. Our cutting-edge infrastructure and dedicated technical support center ensure that your servers are always up and running, and that any issues are quickly resolved.
Scalability
Our server management services are designed to be scalable, so they can grow with your business. Whether you're a small business just starting out or a large enterprise with complex server management needs, we have the solutions to meet your requirements.
Cost-Effective
Our server management services are competitively priced, making them a cost-effective solution for businesses of all sizes. With our services, you can focus on growing your business while we handle the technical aspects of server management.
24x7 Support
We offer 24x7 support to our clients, so you can get the help you need whenever you need it. Our technical support team is always available to assist you with any server management issues, ensuring that your servers are always running smoothly.
In conclusion, SriLanka Hosting is the leading managed service provider in Sri Lanka, offering unmatched 24x7 server management services. With our expertise, reliability, scalability, cost-effective solutions, and 24x7 support, we are the go-to provider for businesses looking for reliable and efficient server management solutions. Visit us at https://www.srilankahosting.lk/server-management-services to learn more about our services and how we can help you manage your servers with ease.