Oct 27, 2023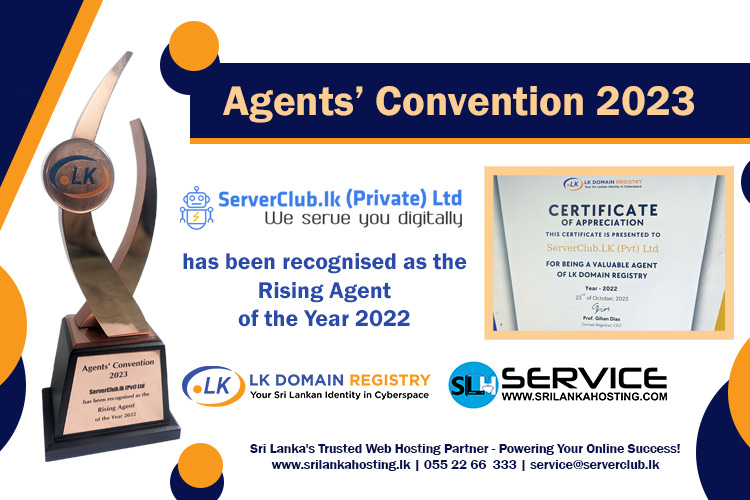 In the rapidly evolving digital landscape, domain registration, and web hosting are essential components of a successful online presence. At the forefront of this industry in Sri Lanka is ServerClub.LK PVT Ltd, a company that has been making waves since its inception in 2015. This year, ServerClub.LK was recognized as the rising agent at the .LK Domain Registry Agents Convention 2023, marking a significant milestone in its journey. In this article, We will delve into the success story of ServerClub.LK and explore how its brand Sri Lanka Hosting success with the .LK Domain Registry.
ServerClub.LK: A Brief Overview
ServerClub.LK PVT Ltd A Company of brand SriLanka Hosting that domain registration and web hosting provider based in Sri Lanka. Since its establishment in 2015, the company has been dedicated to providing top-notch services to businesses and individuals seeking to establish and maintain a strong online presence. ServerClub.LK offers a range of cloud services, including domain registration, web hosting, SSL certificates, and website design, making it a one-stop shop for all online needs.
The Rising Agent of 2022
ServerClub.LK's recognition as the rising agent of the year 2022 at the .LK Domain Registry Agents Convention 2023 is a testament to its dedication to quality, innovation, and customer satisfaction. This prestigious accolade is awarded to companies that have demonstrated exceptional growth and performance in the domain registration industry.
Over the past year, ServerClub.LK has experienced significant growth in its customer base, thanks to its commitment to delivering reliable and cost-effective solutions. The company's user-friendly interface, competitive pricing, and responsive customer support have made it a popular choice among businesses and individuals looking to establish their online presence.
ServerClub.LK Pvt Ltd with .LK Domain Registry
One of the key factors contributing to brand SriLankaHosting's success is its strategic relationship with Company ServerClub.lk Pvt Ltd and the .LK Domain Registry as a LK Domain Agent (Reseller). This collaboration has enabled SriLanka Hosting to offer a wide range of domain extensions, including the coveted .LK domain, which is the country code top-level domain (ccTLD) for Sri Lanka.
The LK Domains Reselling with LK Domain Registry has also provided Company ServerClub.lk Pvt Ltd with access to state-of-the-art infrastructure and technology, ensuring that its clients receive the best possible web hosting services. This collaboration has allowed SriLanka Hosting to offer high-performance hosting solutions with excellent uptime, fast loading times, and robust security features.
Innovative Solutions and Cutting-Edge Technology
ServerClub.LK has been at the forefront of innovation in the domain registration and web hosting industry. The company's commitment to staying ahead of the curve has resulted in the development and implementation of cutting-edge technology and solutions that cater to the evolving needs of its clients.
One of the standout features of ServerClub.LK is its user-friendly control panel, which allows clients to manage their domains and hosting services with ease. The control panel is intuitive and easy to navigate, making it accessible to users of all skill levels.
In addition to its user-friendly interface, ServerClub.LK has also invested in robust security measures to protect its clients' websites and data. The company offers free SSL certificates with all its hosting plans, ensuring that clients' websites are secure and trusted by search engines and users alike.
Customer-Centric Approach
At the heart of ServerClub.LK's success is its unwavering commitment to customer satisfaction. The company understands that every client has unique needs and requirements, and it strives to provide personalized solutions that meet those needs.
ServerClub.LK's customer support team is available 24/7 to assist clients with any issues they may encounter. Whether it's a technical problem, a billing query, or a general question, the support team is always ready to help. This commitment to customer service has earned ServerClub.LK a reputation for reliability and trustworthiness.
Community Engagement and Social Responsibility
ServerClub.LK is also committed to giving back to the community and promoting the growth of the digital industry in Sri Lanka. The company actively participates in industry events, workshops, and conferences to share knowledge and best practices with other professionals in the field.
In addition, ServerClub.LK has launched initiatives to support local entrepreneurs and small businesses by providing them with affordable domain registration and web hosting services. This initiative has helped to foster the growth of the digital economy in Sri Lanka and empower businesses to succeed online.
Conclusion
ServerClub.LK's recognition as the rising agent of the year 2022 at the .LK Domain Registry Agents Convention 2023 is a reflection of the company's dedication to excellence and innovation. With its strategic collaboration, cutting-edge technology, customer-centric approach, and community engagement, ServerClub.LK has set a new standard for domain registration and web hosting in Sri Lanka through its own Brands.
As the company continues to grow and evolve, it is poised to become a leading player in the global domain registration industry. With a focus on innovation, customer satisfaction, and social responsibility, ServerClub.LK is well on its way to becoming a household name in the world of domain registration and web hosting.
Register your .LK Domain - https://www.srilankahosting.lk/lk-domain-registration
#lkdomain #srilankahosting