For Who Only
School, institute and university students in Sri Lanka who can prove their studentship eligible for this package.
What Are The Benefits?
Instant account setup
Go online instantly! Upon your payment confirmation, your hosting account is set up within no time. You will receive a welcome email that will contain the login details of your cPanel. We are one of those web hosting providers that offer cost-effective web hosting service with instant setup
Free SSL Certificate
Secure your websites Free for the first year, SSL certificates from a Comodo Certificate Authority (Sectigo)
Free Website Builder
SLH Website Builder is drag and drop website builder with 354 Professional Themes which cover a wide range of categories Learn more
Automatic Malware Security
We provide free powerful malware scanner with cloud-based auto clean,with powerful web application firewall with realtime updates.
WordPress Installer and Cpanel
Setup your WordPress website in seconds with the Softaculous app installer, which makes updating and maintaining your CMS Easily.
200+ One-Click Apps Installer
We support over 200+ scripts in our one-click installer including WordPress, Joomla, Magento and OpenCart.
Free Daily Backup
Our Linux servers working with Auto Remote Backups system. We generate & secure keep your Daily backups in the separate server for your protection.
100% Fully SSD Disk Storage
Full SSD is the temporary storage of data on SSD Drives to improve data access times and boost storage system performance.
99.95% Fully SSD Disk Storage
Load balancing, redundant clusters and upto 1Gbps high-speed networking ensure our outstanding 99.95% network uptime.
24/7/365 Technical Support
Our dedicated team of friendly support experts are here around the clock if you need help! on Call , Email , Ticket Supports & Live Chat.
Features And Limitations
Free sub domain( _____.slhosted.lk) and Service can be obtained from an existing domain(One email account is free for an existing domain)
1GB web space for your purposes.
10 MySQL Databases are available in this service.
Ease your works with CPanel + Softaculous Premium.
Secure your website with free SSL Certificate.
Most suitable for students who looking build their first website.
Are You Eligible?
We understand that not all students have the money to purchase a private server. That's why we have compiled a comprehensive hosting plan that is designed to meet the needs of students. Any student who is looking to get started in the world of hosting can take solace in knowing that they can do so with little risk by purchasing a reliable hosting package.
How To Apply?
Step 1: Go to https://www.srilankahosting.lk/ website.
Step 2: Select Web Hosting category and click Student Web Hosting.

Step 3: If you are a new member click Register Now button.

Step 4:Use a free tempory domain from srilankahosting or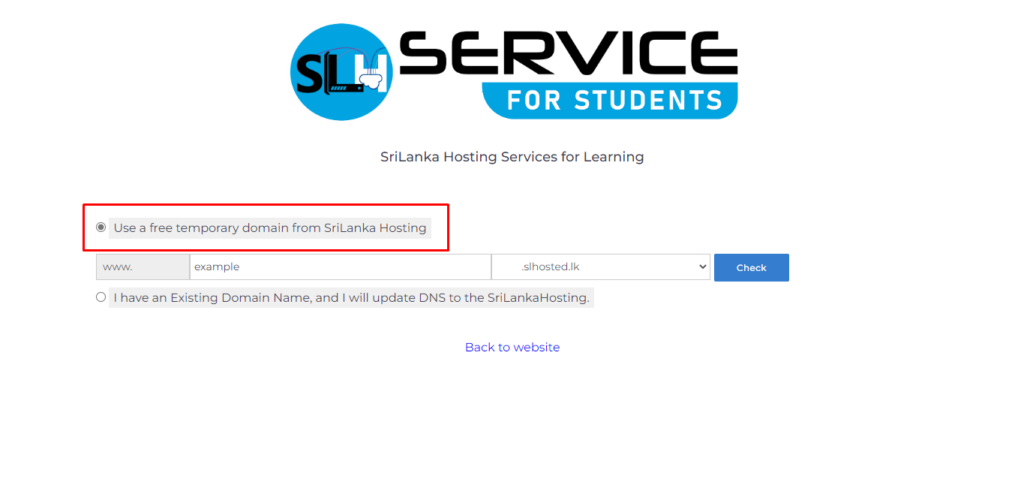 Step 5: If you have an existing domain use it in the below shown section.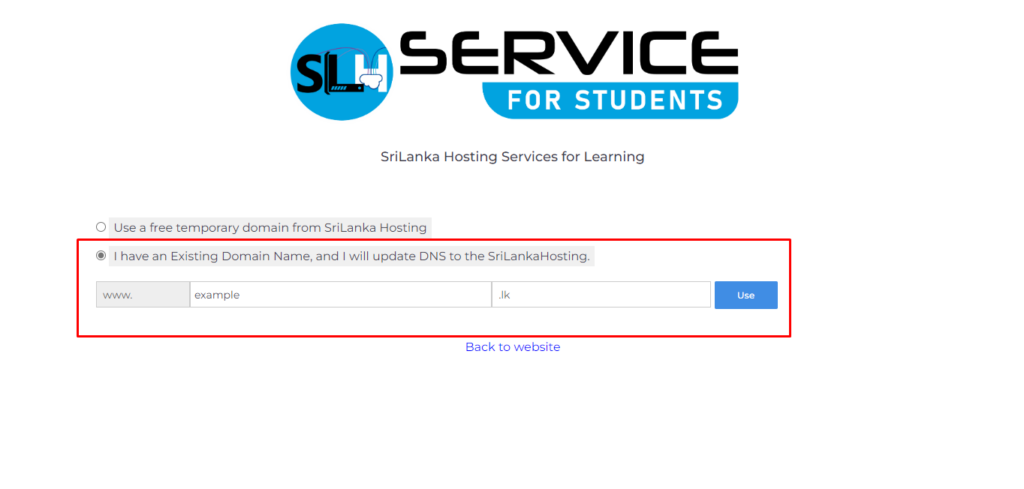 Step 6 : Fill the application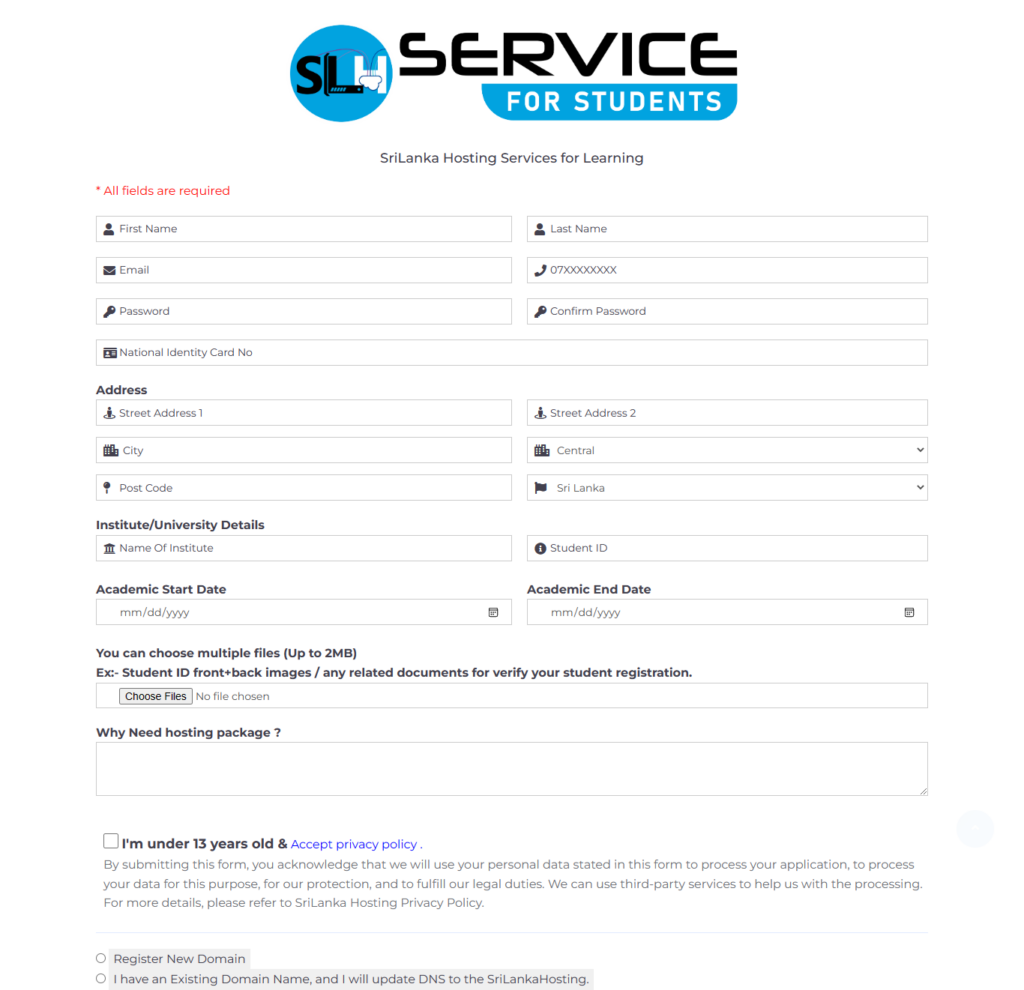 *You will be registered for this service within maximum 3 days after filling the above application
*To check the status, enter your email address as below and click the Check status button.
*If the account is created, a registration confirmation message will appear.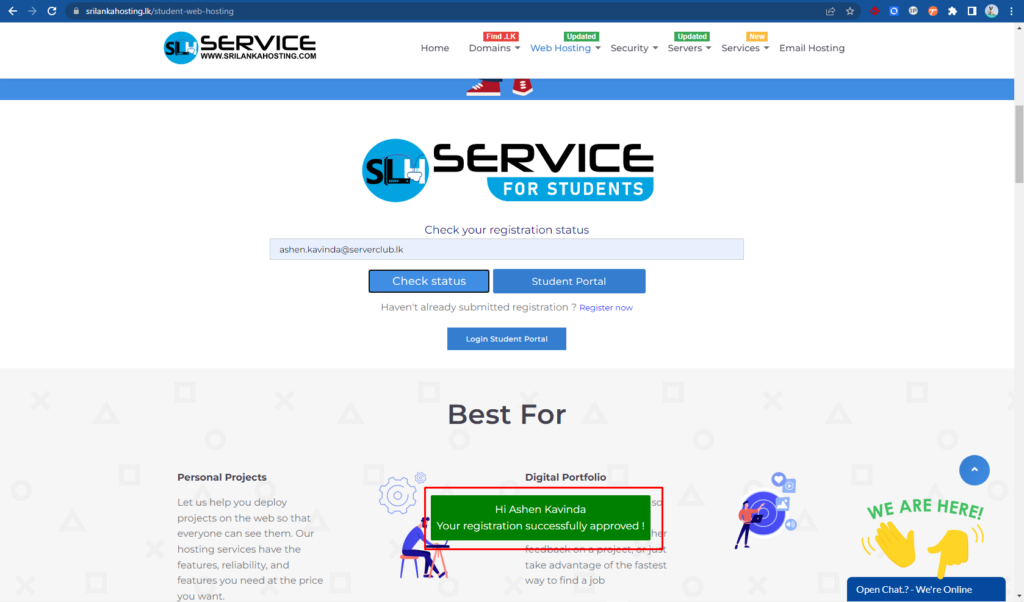 Step 7: Click the Get Started button on the same page.

Step 8: Log into your account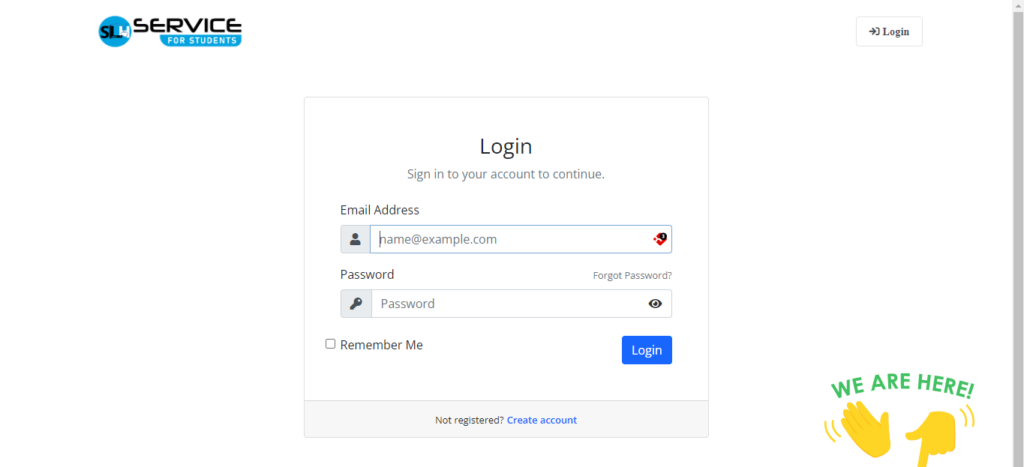 Step 9: Under services section,select Order New Service button.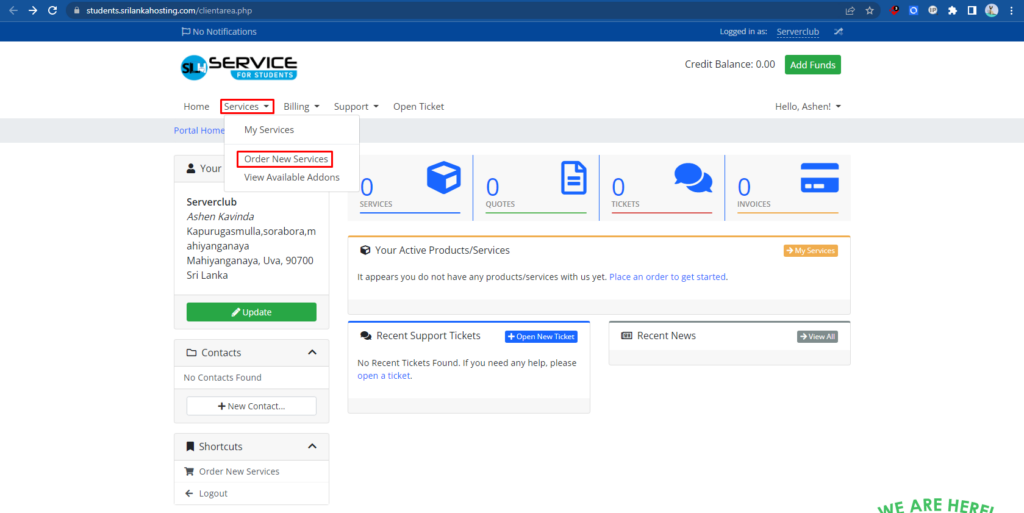 Step 10: Click Order Now button.

Step 11: Select I will use my existing domain and update my nameservers.

*If you do not already have a domain, you can get this service through a subdomain provided by our company.

Step 12: Click Checkout button.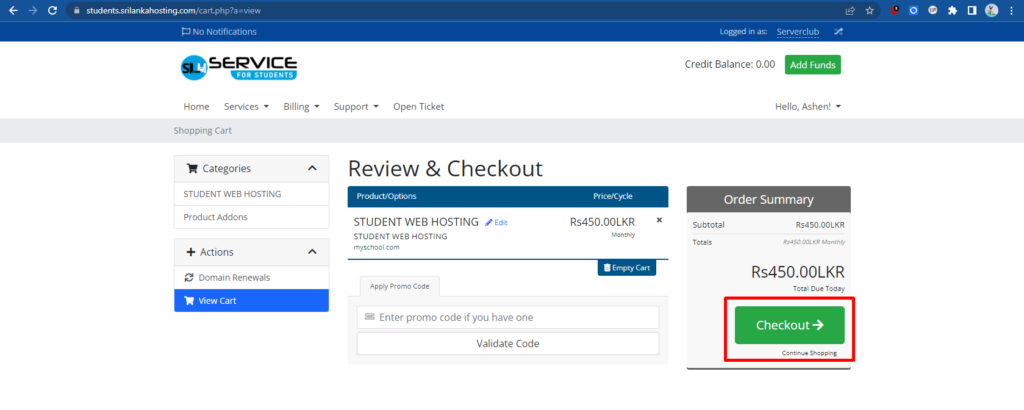 Step 13: Choose your account and Fill your payment details.then click Complete Order button.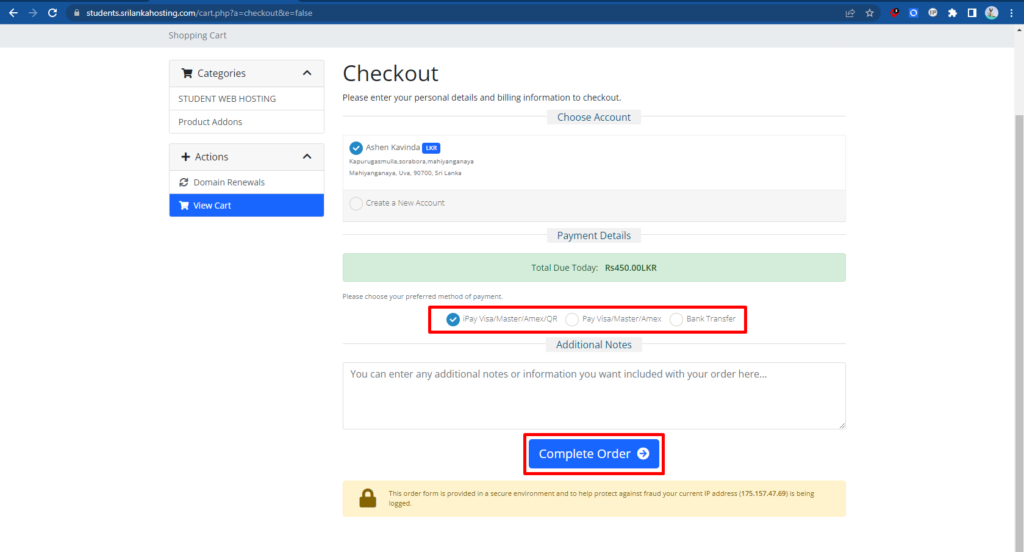 (If the status is create, it will be notified by email and sms)
* Call our hotline for any other problem
Hotline : 0552266333
Email : [email protected]
Can I Upgrade This Hosting Package?
No, there is only one student hosting package. But students can upgrade the hosting package to our commercial hosting packages.
What Can Do?
Personal Projects
Let us help you deploy projects on the web so that everyone can see them. Our hosting services have the features, reliability, and features you need at the price you want.
Digital Portfolio
Showcase your best work so that everyone can see it. Update your portfolio, gather feedback on a project, or just take advantage of the fastest way to find a job.
Assignments
Upload assignment or projects and share it with your lecturer, instructor and classmates.
Freelancing
Host your own site with our plan and step up your freelance work while studying.